Fishing:Rice Lake in Canada
Jul/13/2020 21:58:35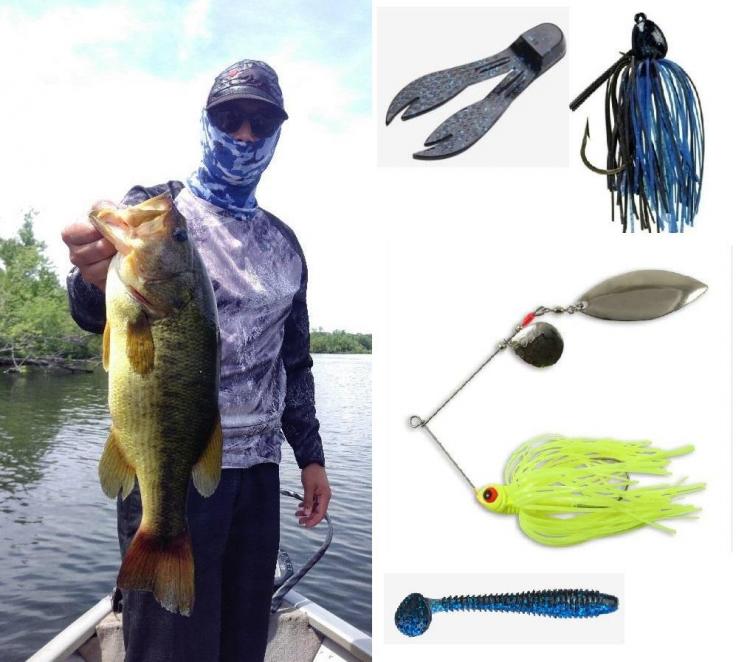 Date: Sunday July 12, 2020
Location: Otonabee River, Ontario, Canada
Weather: Overcast, evening chance of rain.
Temperature: High 24C | Low 16C
Moon Phase: Third Quarter
Water Temperature: ~24C
Water Conditions: Stained
Target Species: Largemouth Bass, Smallmouth Bass, Pike
Bass
Closing off a weeklong heatwave was 2 days of rain and thunderstorms. Conditions today were mainly overcast, with some heavy rain coming in the early evening. The largemouth and smallmouth were mostly deep. Drop shot with a plastic leech type bait worked well in the early morning straight through to the afternoon. Once the weather stabilized a bit, and the shallower water warmed up again, both largemouth and smallmouth bass moved into the shallow weeds and shoreline cover. The afternoon was all about the jig bite. Stained water and overcast conditions meant using a black and blue jig with a matching trailer. I caught most of my fish on a black and blue Strike King Bitsy Bug in 3/16 oz. paired with a Strike King KVD Chunk in the same color.
Pike
The pike came to eat, and many were caught on spinnerbaits, swimbaits, and bass jigs. When fishing in areas with lots of pike, a wire leader is recommended. I lost a few bass jigs to some rather toothy pike. The pike were found hanging out in the same areas as the bass, with most of them hiding under fallen trees adjacent to deep water. The rest we found along weed lines in 6-8ft of water. Throwing a Northland Tackle chartreuse spinnerbait was the ticket today.
The other great pike producer today was a swimbait. I threw them in the thicker weedy areas where a spinnerbait wouldn't be as productive. Today I was using a Gamakatsu weighted worm hook in 3/8oz paired with a Strike King Rage Swimmer.
Hopefully I can get a weekend with calmer winds and can try some main lake Walleye. Fishing for summer walleye can be quite fun, especially when jigging Rapala Jigging Raps along weed lines and drop-offs.
#Fishing
#BassFishing
#FishingInCanada
Posted by Anonymous
See more blogs of Anonymous